MHRA Class 2 Medicines Recall: Labetalol 200mg tablets (Tillomed Laboratories Ltd)
Drug alert number: EL (23)A/23
Date issued: 10 July 2023
The Medicines and Healthcare products Regulatory Agency (MHRA) has issued a class 2 medicines recall for: Labetalol 200mg tablets (Tillomed Laboratories Ltd)
| | | | |
| --- | --- | --- | --- |
| Batch number | Expiry date | Pack size | First distributed |
| 221345 | 08/2025 | 56 (4×14) | 15/05/2023 |
Active Pharmaceutical Ingredient: Labetalol hydrochloride
Brief description of the problem
Tillomed Laboratories Limited is recalling one batch of Labetalol 200mg Tablets due to an error on the foil blister packaging. The incorrect aluminium foil blister packaging states Labetalol 100mg Tablets, however it should be labelled as Labetalol 200mg Tablets. This error has occurred at the primary packing operation. The description on the carton of a strength of 'Labetalol 200mg Tablets' is correct.
Tillomed Laboratories Limited has confirmed the actual tablet contained in the blister is Labetalol 200mg Tablets, which is the strength stated on the outer carton. This error is limited to the packaging of the batch with 100mg aluminium foil blister and does not impact the lot (batch) number or expiry as printed on the outer carton and aluminium foil blister. The images below show the error on the incorrect aluminium foil blister packaging and show the correctly labelled cartons and batch/lot number and expiry date.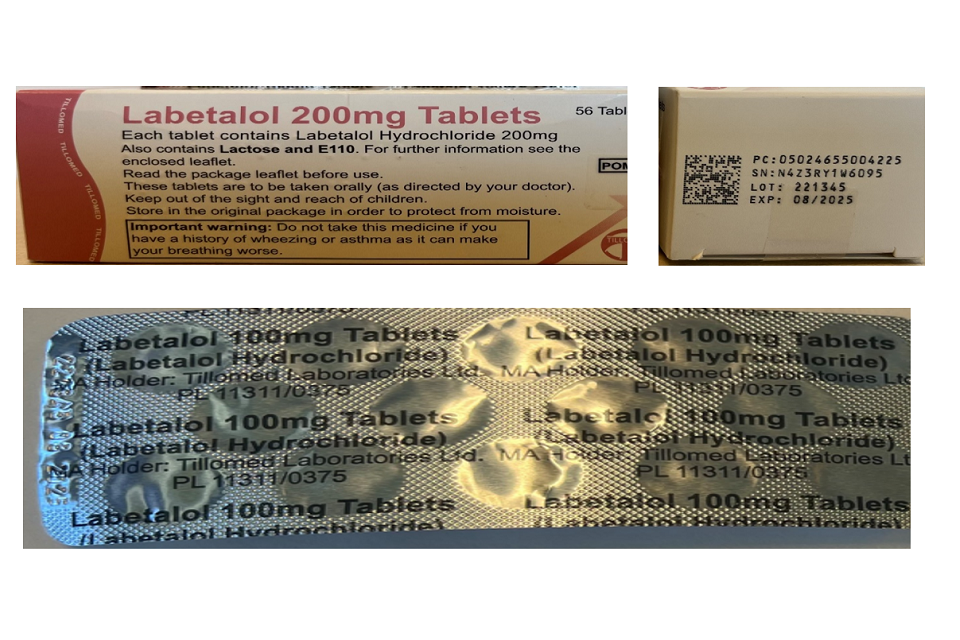 Advice for healthcare professionals
Stop supplying the above batches immediately. Quarantine all remaining stock and return it to your supplier using your supplier's approved process.
This recall is at pharmacy and wholesaler level and not directed to patient level. However, patients may present with the incorrectly labelled aluminium foil blister. Pharmacy teams should exercise their professional judgement to supply the correct pack, however there is no impact to the overall tablet, as Tillomed Laboratories Limited have confirmed that all blisters for this batch contain the 200mg strength tablets. If the prescription was written within 6 months, pharmacists can arrange for the dispensing of a pack that does not contain the incorrect blister foil labelling.
Full drug alert can be viewed here.
Further Information
For all medical enquiries, please contact medical information at Tillomed Laboratories Limited by email to medical.information@tillomed.co.uk or PVUK@tillomed.co.uk or by telephone +44 (0)1480 402 400